Current Partnering
has released a recent its Cancer Monoclonal Antibody Partnering Report
has showing an increase in partnering deals involving
monoclonal antibody
therapy in the past twelve months
.
Since 2007 there has been a steady interest in the research and development of monoclonal antibodies as a treatment for various cancers, and this interest peaked in 2011 with over 70 deals partnering deals announced.
Figure 1: Cancer monoclonal antibody partnering by year – 2007-12

Unsurprisingly, the most frequent stage of development at signing of a partnering deal is discovery, followed by preclinical, and then phase I, phase II and phase III, as shown in figure below.
Figure 2: Cancer monoclonal antibody partnering by stage of development – 2007-12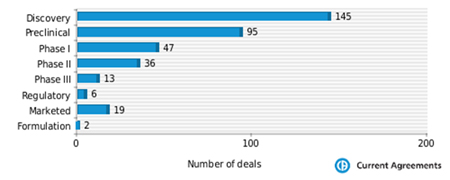 According to the report, the primary oncology disease targets for monoclonal antibody partnering include lymphoma, breast, pancreatic, lung, melanoma and solid tumors.
The primary bigpharma companies participating in monoclonal antibody partnering in oncology include Pfizer, Sanofi, GSK, Amgen, Bayer, Takeda and Biogen Idec, all of whom have participated in six or more deals since 2007.
Monoclonal antibody partnering on the increase in cancer | Current Partnering